Start by clicking the "Shipping Charge Settings" icon on the Shopping Cart Management panel in the administrator shown here:
This will take you to the selection page. Here you see a choice of 10 different models. Each model is a mathematical software system of calculating the amount to charge the customer to ship their order. Some of them are quite complex while others are extremely simple. No matter what type of products you sell, at least one of the models should work for you. Notice that each one has a description which will help you decide which is best for your business. Should you need any additional assistance with the software, please call us at (919) 477-2100. The page shown below is where you select which model you will use to charge shipping within the United States. You may setup independent charge models for Canada and for all other countries (other than the US and Canada) by clicking the Canadian Shipping Settings icon or International Shipping Settings icon in the left menu. In addition, you can lock out states that you don't ship to. For example, some merchants do not ship to Alaska or Hawaii. If you do ship to Alaska and Hawaii, you may also add a surcharge to cover additional costs by clicking the Rate Overrides icon in the left menu and setting up a surcharge.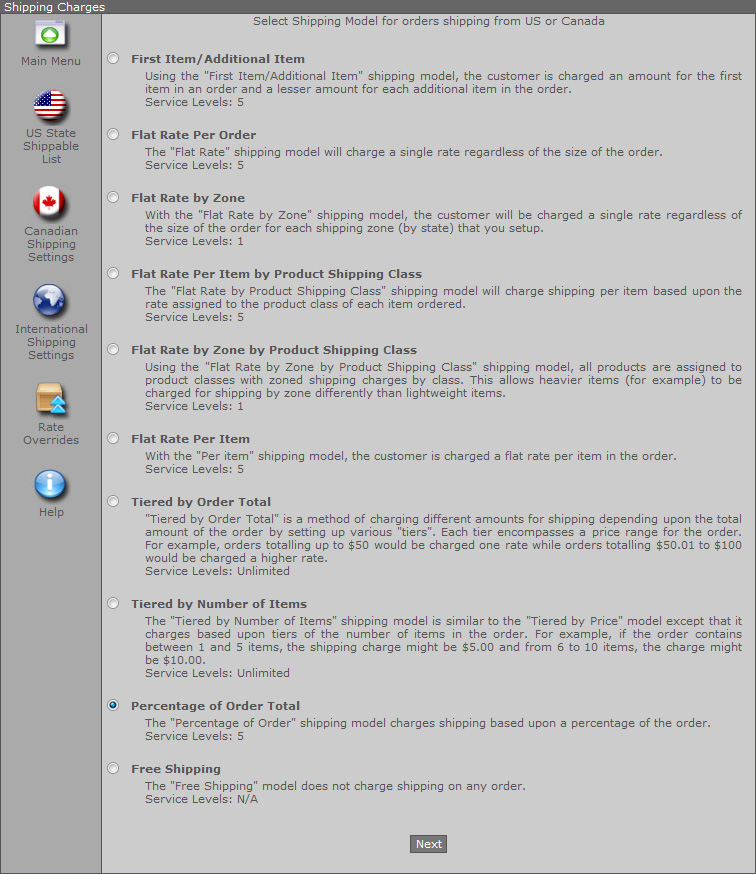 To select a model, click the radio button (the small white circle) next to the one you wish to use. You may change your shipping model at any time and you may change the rates that you charge within each model at any time. Once you have selected a model, you will be taken to its settings page. For most of the models, the software can handle up to 5 service levels. Freight companies (such as UPS or Fed Ex) offer Ground Service, 3 Day Air, Second Day Air, Standard Overnight, and Next Business Morning services. Each of these is a service level, so in the case we show below, we use these as an examples. TIP: It is not necessary to fill in all 5 service levels. You may wish to offer only one or two service levels, which is just fine. As an example, we will show you the most popular model as selected by our clients over the years. "First Item / Additional Item" allows you to charge one rate for the first item in an order and a lower rate for each additional item in the order. For each service level below, notice that the description, the amount charged for the first item, the amount charged for the second item, and a "free shipping for orders over..." amount are filled in. For each service level, you may set a threshold above which, shipping is free. This is completely optional. When you have setup the charges the way you want them, click the "Update" button at the bottom of the page.